YOUR AI MARKETING ASSISTANT
The platform for multi-channel campaign optimization of online advertising
Artificial intelligence for your online communication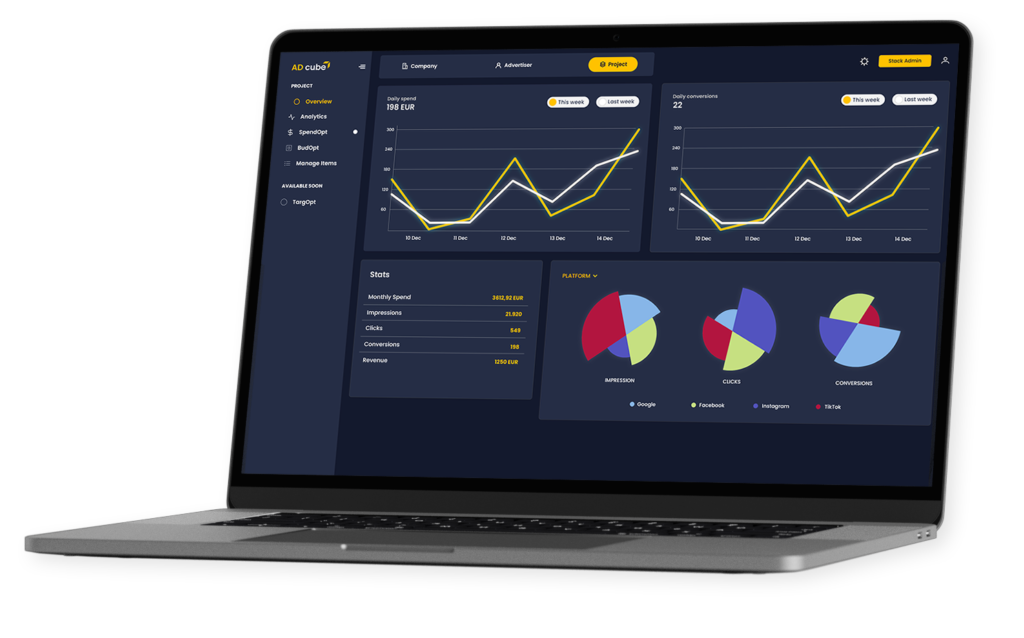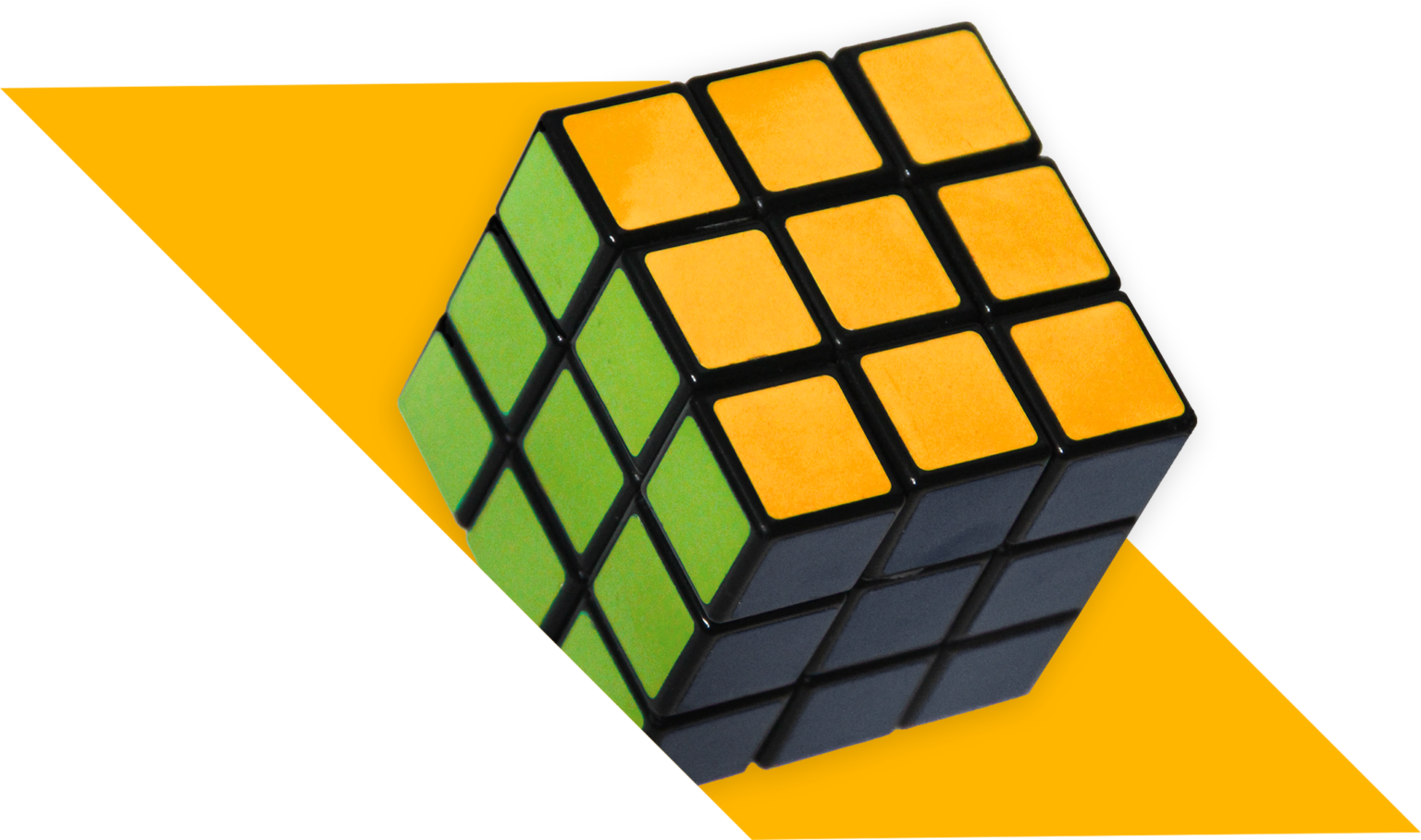 Managing an advertising campaign requires PERFORMING MANY TASKS. An OPTIMUM EXECUTION of these tasks becomes impossible when the number of campaigns is high!

With AD cube you can manage budget distribution, choose the right target and plan spending by optimizing your ROI with the guidance of Artificial Intelligence.
Optimize your earnings and save time and money with your personal AI assistant.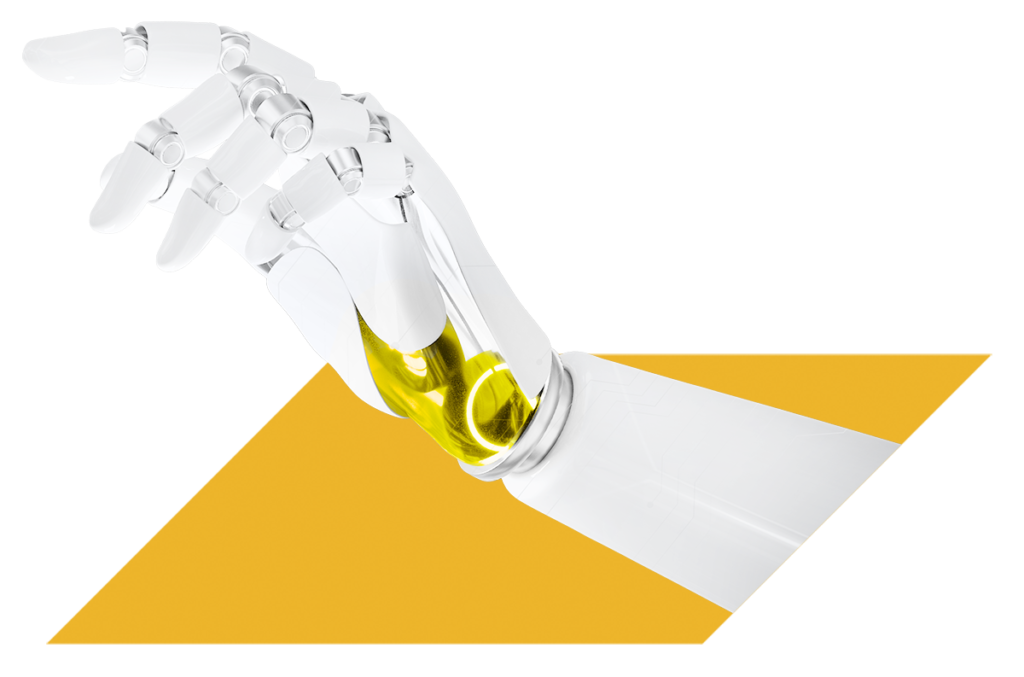 AD cube is an AI-based platform that supports advertisers during campaign optimization. AD cube allows you to manage and optimize a mix of multi-channel campaigns in a single platform.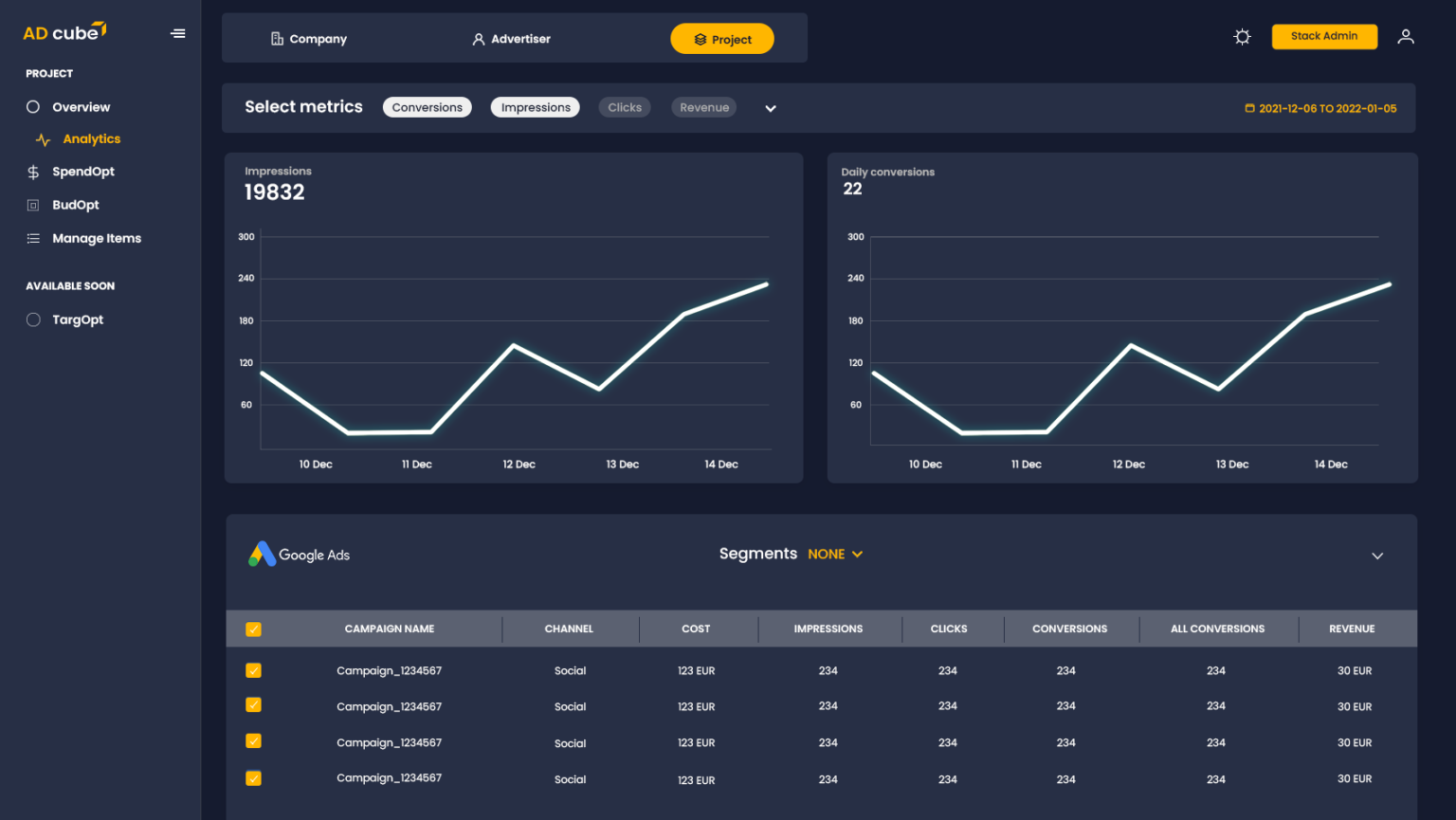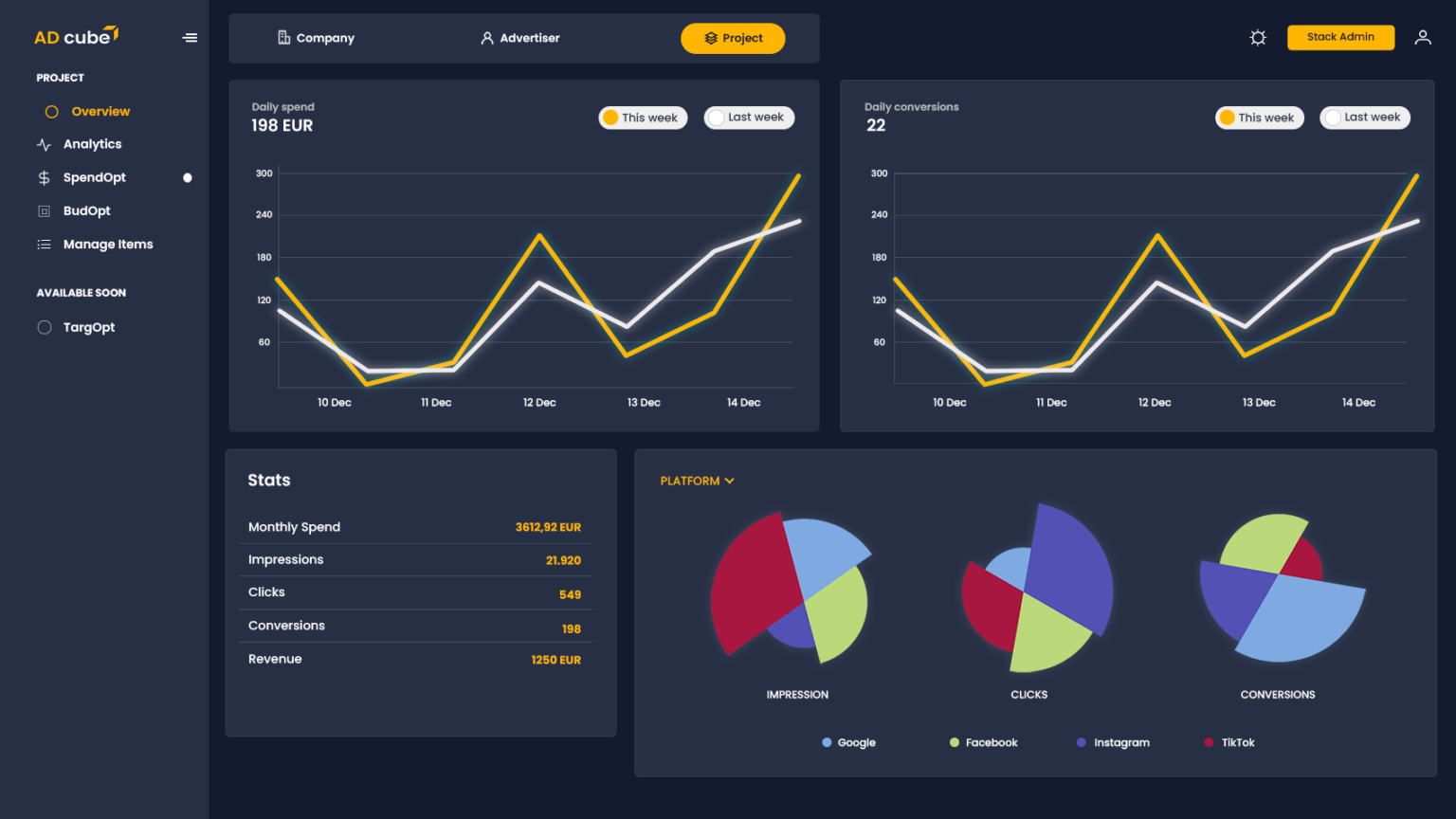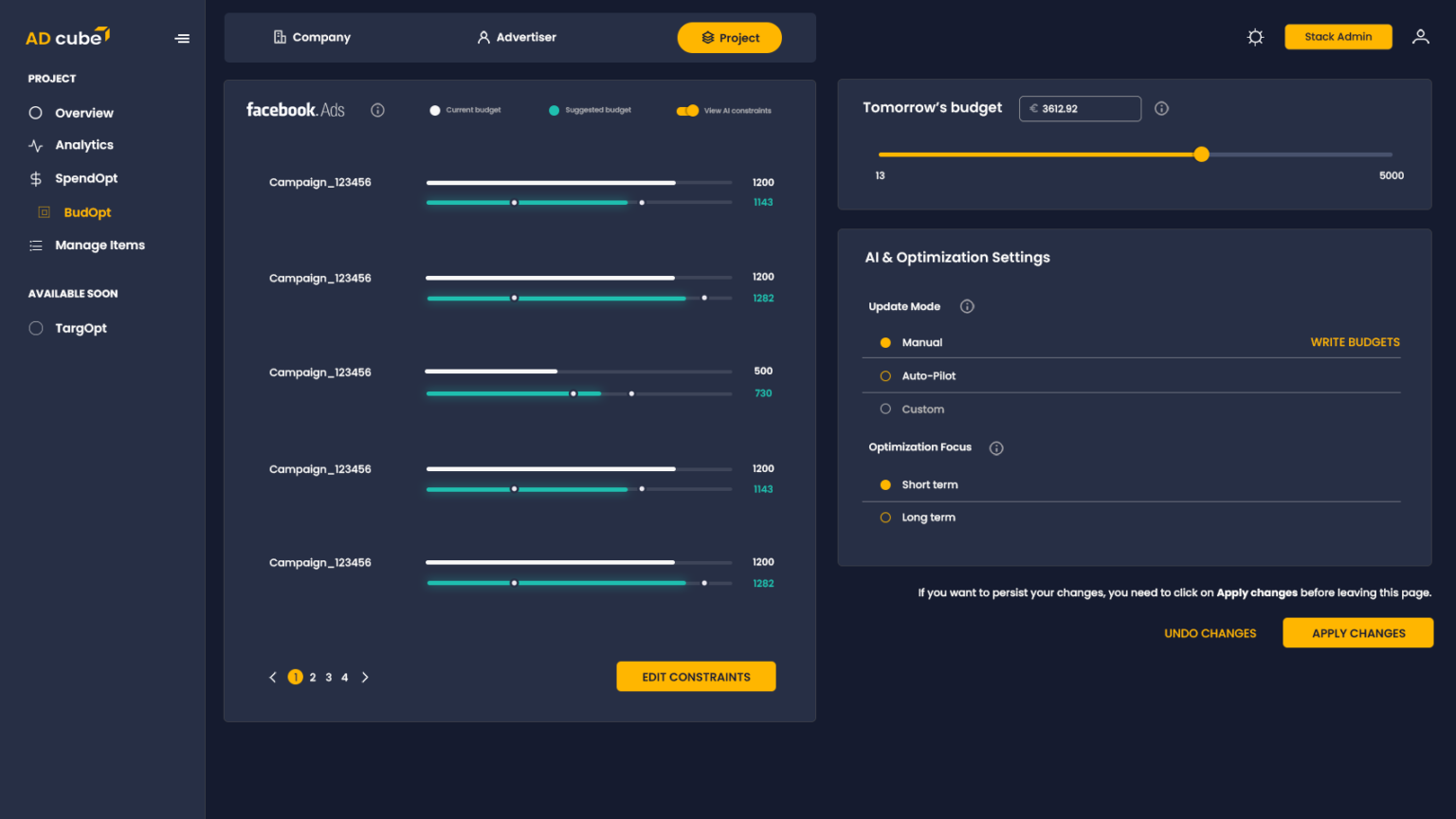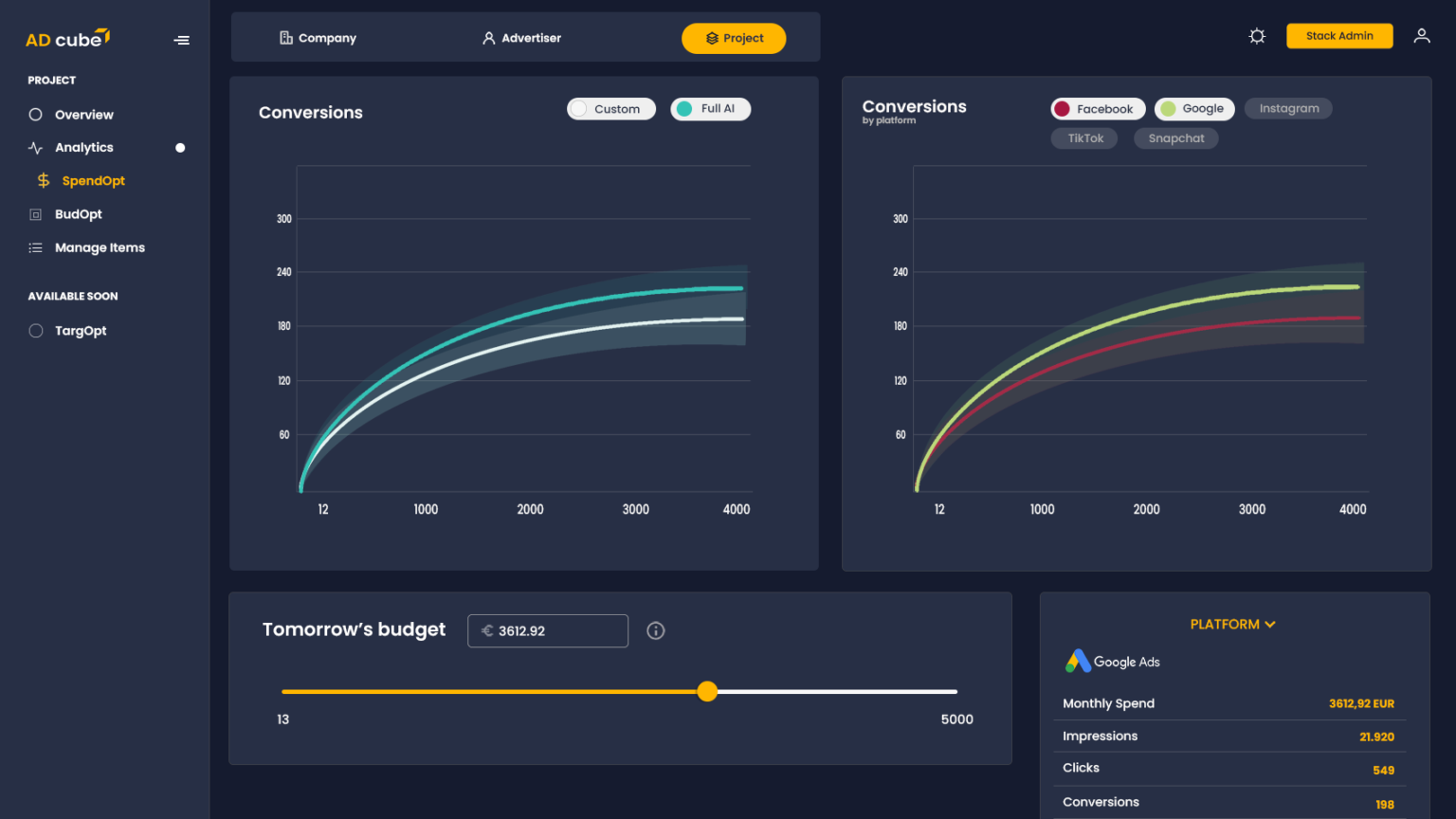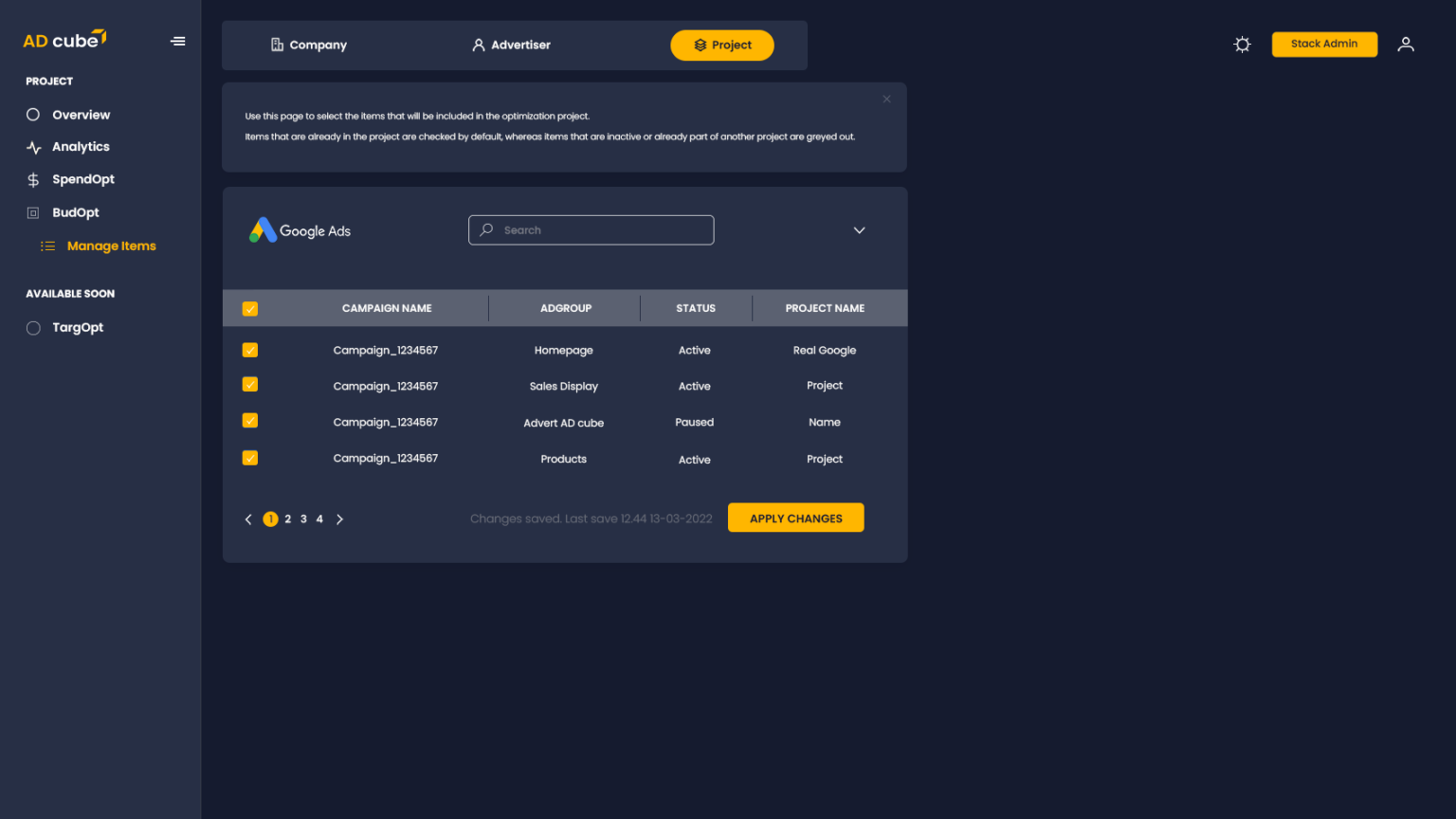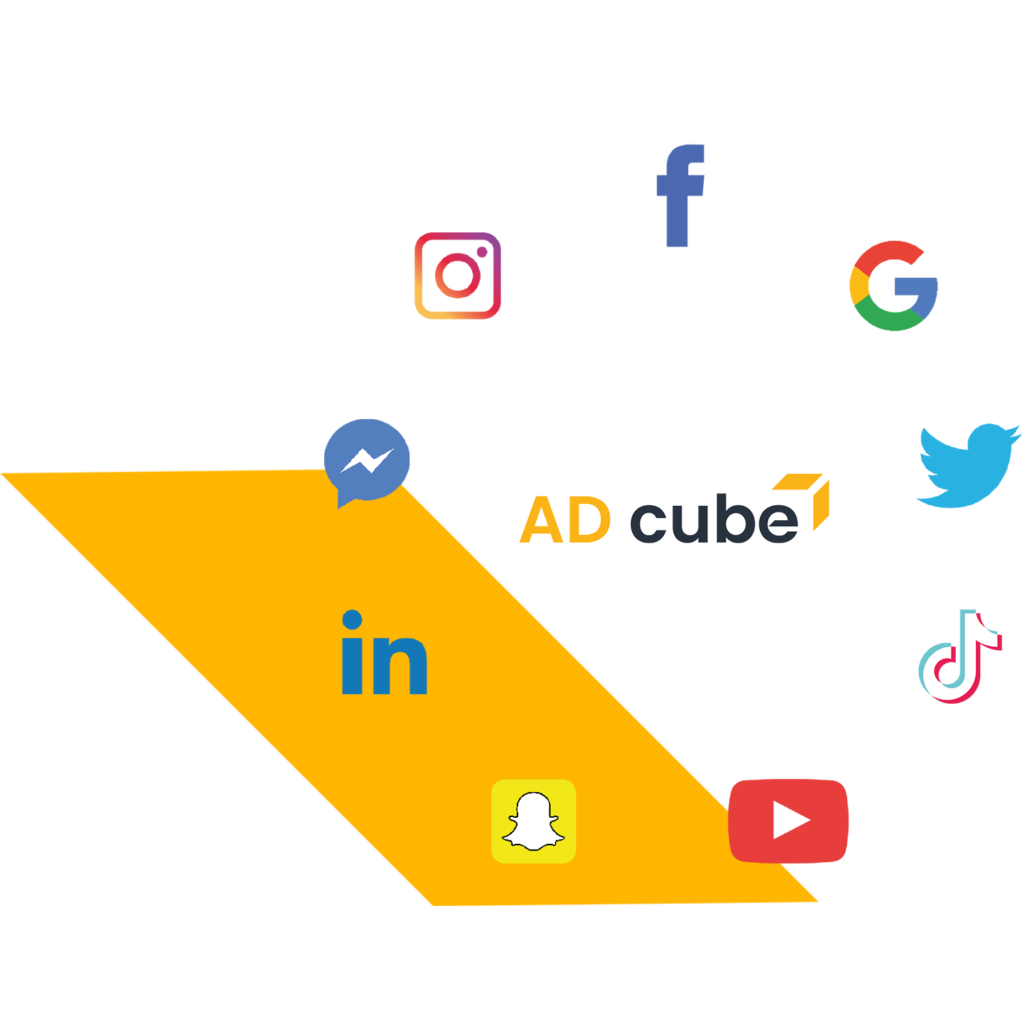 Create your project, add your campaigns from all the channels you have activated and let AD cube optimize them. This way you can focus on creativity!
AD cube allows you to add campaigns from major platforms to manage them in one place. Every day, AD cube analyzes the data and sets the changes for an optimal result for each platform.

With the power of Artificial Intelligence, AD cube allows you to answer three "simple" questions, the main ones in the ordinary activity of those involved in Digital Ads. The answer lies in the three modules that make up the platform: BudOpt, SpendOpt and TargOpt.

HOW MUCH SHOULD I INVEST?
The accuracy of ML forecasts to support advertisers in optimizing their spending plan.
It predicts campaign performance in terms of revenue and ROI.
The output consists of predictive curves that suggest to advertisers how much to invest to achieve a certain goal.
The Revenue / ROI trade-off will no longer be a problem!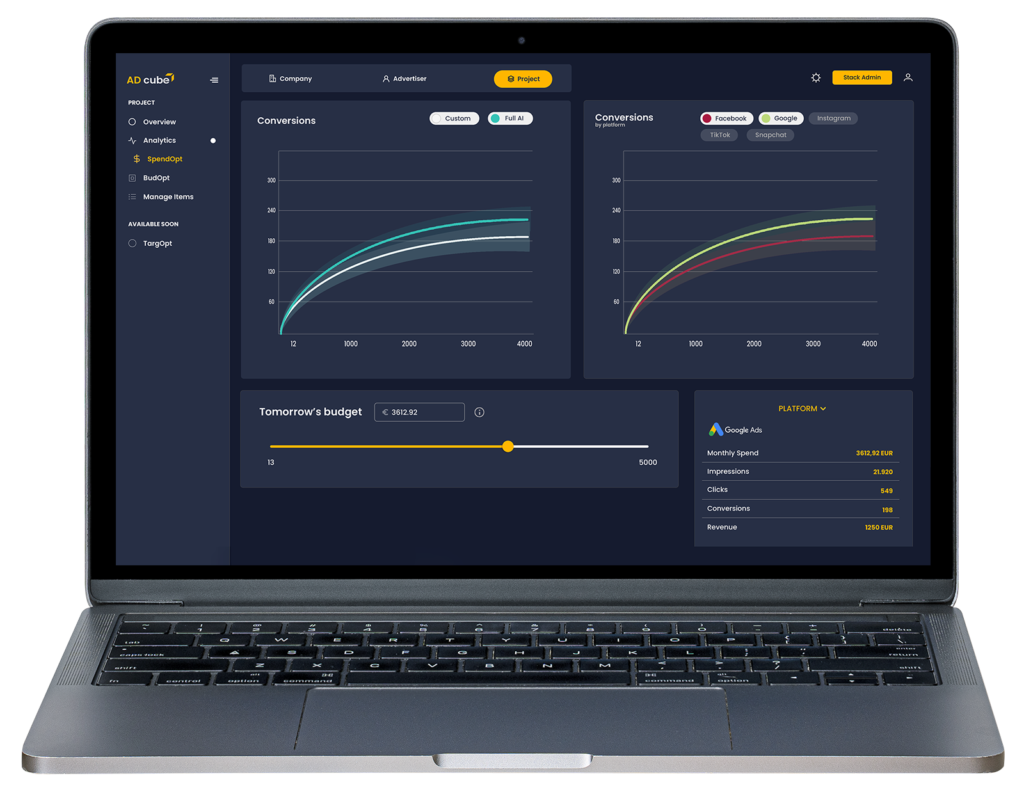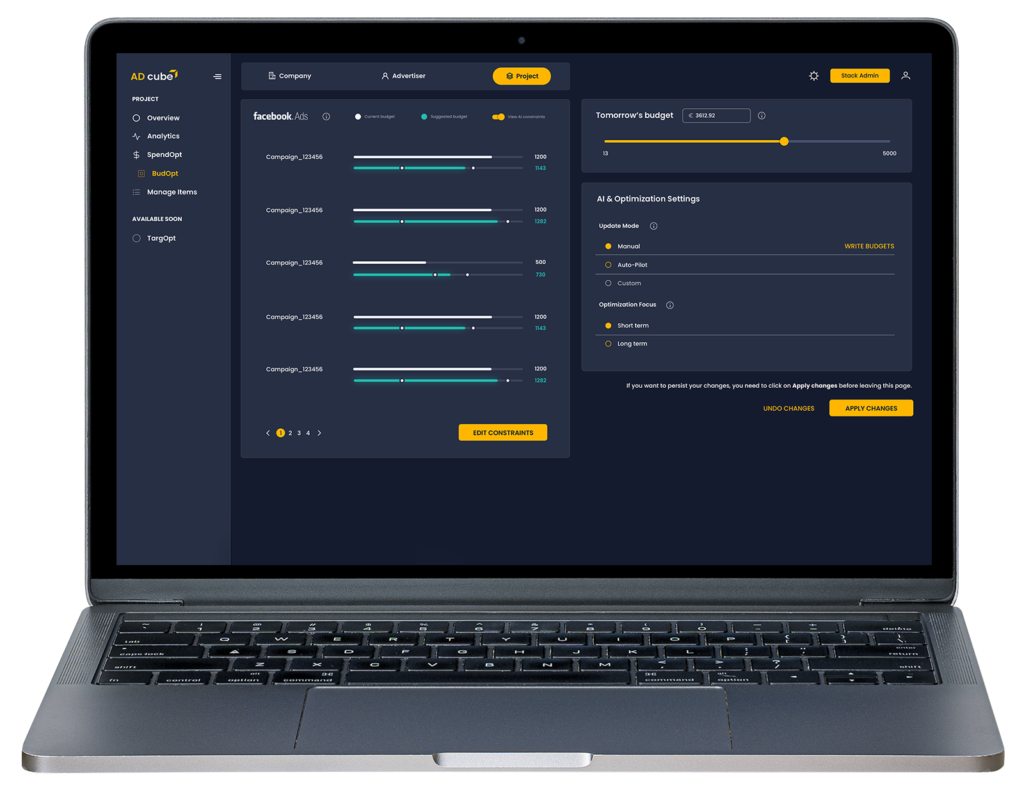 HOW SHOULD I DISTRIBUTE THE BUDGET?
The responsiveness of online Machine Learning algorithms to dynamically allocate the budget between campaigns.
Given an overall budget, Budopt distributes it daily between the different campaigns.
It allows the advertiser to set constraints and customize budget management.
Maximize returns or ROI by respecting the business limits imposed by the advertiser.

WHAT IS THE RIGHT TARGET?
The power of AI algorithms to capture target segments that are not reachable by traditional data analysis.
TargOpt processes historical data from existing campaigns in the background.
If a promising segment is found it returns a new set of campaigns.
Then, TargOpt can automatically create the new audience for each platform.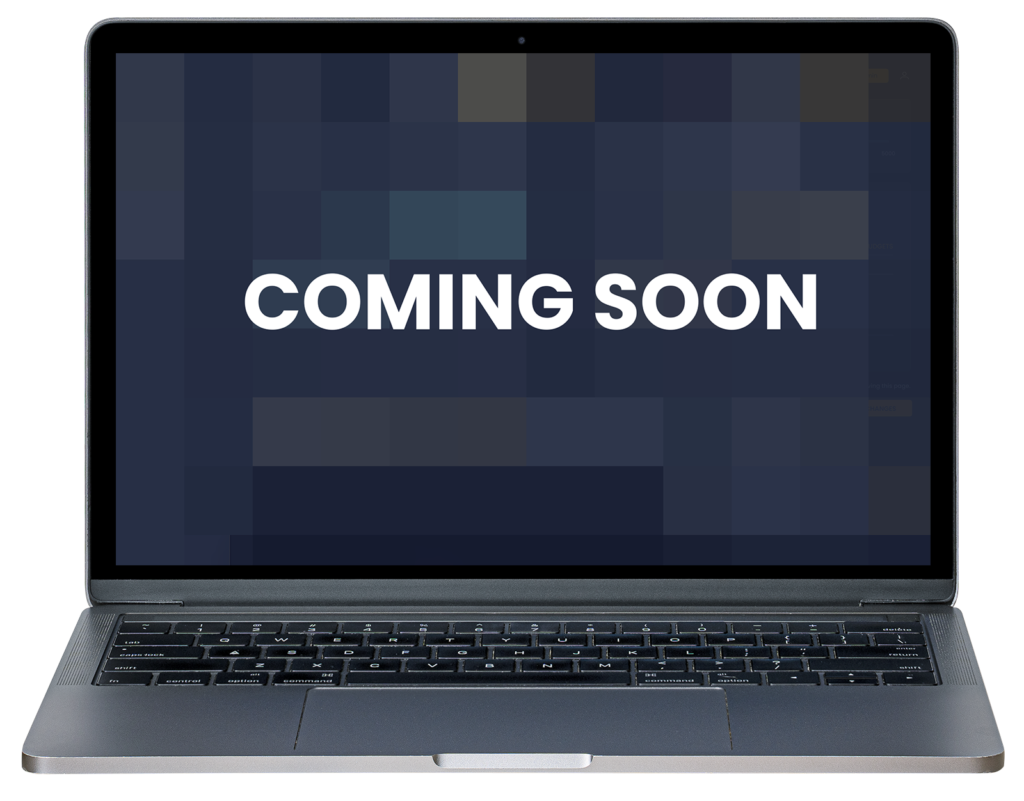 RECENT APPLICATION
+30% ROI +40% time gained

AI COMMUNITY
8 top conference papers
Big tech companies' interest

EARLY ADOPTERS
+10 international and Italian adopters
IN CONTINUOUS EVOLUTION
Always searching new solutions for our customers, ML cube research team is working on cutting-edge algorithms for
advertising optimization.
Attribution models, Off-line channels optimization, Real-time bidding and creativity optimization are just some of the
new functionalities AD cube will provide.